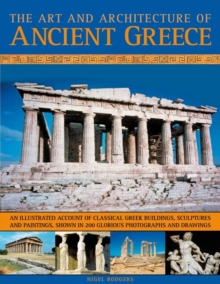 The art and architecture of ancient Greece : an illustrated account of classical Greek buildings, sculptures and paintings, shown in 250 glorious photographs and drawings
1844768023 / 9781844768028
30 cm 128 p. : col. ill., col. maps
Originally published: as part of The ancient Greek world. London: Lorenz, 2010.
This title offer an illustrated account of classical Greek buildings, sculptures and paintings, that are shown in 200 glorious photographs and drawings.
It includes an authoritative exploration of ancient Greek civilization, architecture and style, sculpture, painting and mosaics.
It provides a spectacular visual study of iconic Greek buildings and temples, including the Parthenon and the Acropolis, the Sanctuary of Delphi and the great temples of Olympia.
It contains an examination of the Doric, Ionian and Corinthian Orders that influenced the development of great Western architecture from medieval times to the present day.
It helps you learn about the sculptors from Pheidias and Polycritus to Praxiteles and Lysippus, and their creations including the Riace bronzes, the Delphi Charioteer, the Farnese Hercules and the Laocoon statue.
This title includes over 250 glorious photographs, illustrations and diagrams bring the ancient cities of Athens, Corinth and Sparta to life and reveal the pioneering brilliance of classical Greek art and architecture. This fascinating book explores the importance of art and architecture in the world's first classical civilization, charting the ancient cities from their first foundations to the creation of their towering temples.
The first half of this book analyses the rise of Greek architecture from its Minoan roots to the creation of that most perfect temple, the Parthenon.
The second part of this book covers the skill of ancient Greek sculptors and artists, and looks in detail at their techniques.
An insightful text plus over 250 photographs, illustrations and maps make this book an indispensable resource on classical Greek art and architecture for both the specialist and general reader.
BIC:
1QDAG Ancient Greece, 3D BCE to c 500 CE, ACG History of art: ancient & classical art,BCE to c 500 CE, AMX History of architecture