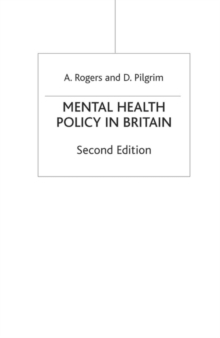 Mental health policy in Britain : a critical introduction (2nd ed)
0333947924 / 9780333947920
Usually dispatched within 2 weeks
ANNE ROGERS is Professor of the Sociology of Health Care at the National Primary Care Research and Development Centre based at the University of Manchester. She was a Reader in Sociology at the University of Manchester for five years.DAVID PILGRIM is Head of Adult and Forensic Psychology Services, Guild NHS Trust Preston and Professor of Mental Health at the University of Liverpool.
The second edition of this acclaimed book offers a critical analysis of the transition from institutional to community care for people with mental health problems.
Despite the almost complete abandonment of the old Victorian asylum system, the powerful cultural legacy of segregation remains potent in modern thought.
Rogers and Pilgrim analyse the impact of new policies introduced by the Labour government since it came to power in 1997, identifying both the processes and causes of policy change and assessing its value in the context of longer term debates about madness and distress.
BIC:
1DBK United Kingdom, Great Britain, JFFH Illness & addiction: social aspects, JPQB Central government policies, MBPK Mental health services