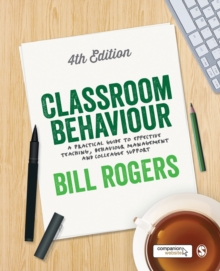 Classroom behaviour : a practical guide to effective teaching, behaviour management and colleague support (4th edition)
1446295338 / 9781446295335
24 cm xxiii, 324 pages : illustrations (black and white)
"Companion website"--Front cover Previous edition: 2011.
This exciting new edition of the best-selling and beloved teacher's companion looks at the everyday behaviour issues facing teachers working in today's classrooms.
Describing real situations and dilemmas, Bill Rogers provides theoretically sound strategies and best practices to support you in meeting the challenges of the job, as well as building up a rapport with both students and colleagues to enable positive and productive learning environments.
Written jargon-free in Bill's accessible and empathetic voice it includes in-depth strategies, practical examples, case studies and pragmatic hints and tips to put in to practice.
This will make for informative and inspiring reading to all those involved in educating our children and young people.
The new edition has been revised and updated and now also includes access to an interactive website packed with a host of extra material to take you further. Visit https://study.sagepub.com/rogers4e to access: Videos of Bill demonstrating his behaviour strategies in real classroom settings Podcasts where Bill explains his ideas and ethos in more detail as well as answering teachers' FAQs Extra reading material for even more support on difficult subjects Behaviour Management Tool Templates to use with students in the everyday classroom Role-play scenario cards to help understand and prepare for challenging situations "We often think of behaviour management in terms of dealing with challenging behaviour, but Dr Rogers begins by looking at classroom organisation and whole-class strategies.
Alongside the theory, he provides examples that create a much deeper understanding of exactly what works and what doesn't." - Special magazine BILL ROGERS IN THE UK!Dr Bill Rogers will be lecturing in the UK and for schools, authorities and universities this autumn 2017, mid-September to mid-December.
For details of events, or to book Bill in to do training for your organization, please contact Lora Rogers at lrrogers07@gmail.com See his website for further information http://www.billrogers.com.au
BIC:
JNLB Primary & middle schools, JNT Teaching skills & techniques