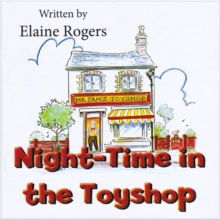 Night-time in the toyshop
0722348770 / 9780722348772
21 cm 40 pages : illustrations (colour)
Primary Learn More
Children's (6-12)
Preschool (0-5)
Mr Sam's Toyshop in Bluebell village is like no other toyshop in the world.
Mr Sam makes all the toys himself, in a little workshop out the back, but not even he knows everything his marvellous toys can do.
He doesn't see what they get up to at the end of every day, when the last customer has gone home and the toys are alone.
Morris the monkey reaches for his drumsticks and Ola the elephant asks the clockwork mouse for a dance while the two clowns turn somersaults and Mr Wobble wobbles merrily. And the night is only just beginning. . . .
BIC:
5AC Interest age: from c 3 years, YBCS Picture storybooks, YFH Fantasy & magical realism (Children's / Teenage)