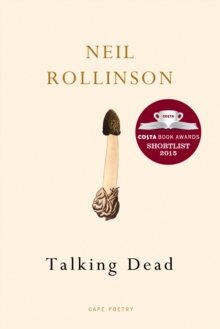 Talking dead
0224097296 / 9780224097291
Shortlisted for the 2015 Costa Poetry PrizeLike Neil Rollinson's earlier books, Talking Dead is a refreshment of the senses: lifting the lid on the human condition in a heartfelt celebration of the act of being, whether in moments of love or mortality, sex or feasting. In the central sequence of the book - a meditation on the space between life and death - the dead speak of their final earthly moments with a liberating sense of fascination, and a luminous awe.
Elsewhere we enjoy al fresco sex, astronomy via many pints in the Cat and Fiddle, and the deliverance of an Indian monsoon after weeks of thirst and drought.
In 'Christmas in Andalucia' two lovers Skype each other achingly across hundreds of miles - 'I am full of loss and longing,' the poet says, 'the heart is hewn from elm and oak and mistletoe.'As provocative, sensual and subversive as ever, these poems seek and find the numinous in the everyday: some element of ritual or wonder that transforms experience.
Although the spectre of darkness is never far away, it is the spirit of pleasure that endures, and we discover to our delight, as D.
H. Lawrence did, that the Dionysian finally prevails over the Apollonian.
BIC: