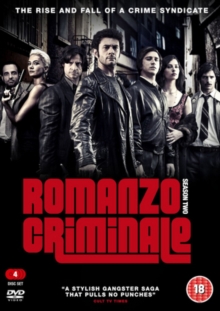 Romanzo Criminale: Season 2
(18) Suitable for 18 years and over.
All ten episodes from the second season of the Italian crime drama based on the novel by Italian judge Giancarlo De Cataldo.
The series follows the dealings of an organised gang of drug dealers, led by Libanese (Francesco Montanari), Freddo (Vinicio Marchioni) and Dandi (Alessandro Roja), as they gain control over Rome's heroin trade.
As well as coming up against each other from time to time, the group also have to compete with other local criminal syndicates with similar illicit interests.
In this series, set in the '80s, the Roman gang are left in disarray when one of their own is murdered.
As they try to find the killer before the authorities do, they struggle to come to terms with their new structure of power.