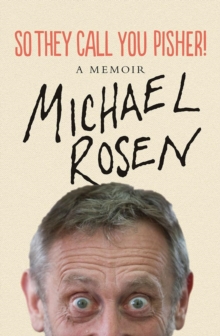 So they call you pisher! : a memoir
178663399X / 9781786633996
20 cm 310 pages, 16 unnumbered pages of plates : illustrations (black and white)
Reprint. Originally published: 2017.
In this humorous and moving memoir, Michael Rosen recalls the first twenty-three years of his life.
Born in the North London suburbs, his parents, Harold and Connie, both teachers, first met as teenage Communists in the 1930s Jewish East End.
The family home was filled with stories of relatives in London, the United States and France and of those who had disappeared in Europe.
Unlike the children around them, Rosen and his brother Brian grew up dreaming of a socialist revolution.
Party meetings were held in the front room, summers were for communist camping holidays, till it all changed after a trip to East Germany, when in 1957 his parents decided to leave "the Party." Michael followed his own journey of radical self-discovery: running away to march against the bomb at Aldermaston, writing and performing in experimental political theatre and getting arrested during the 1968 movements. An audio version of this book, read by the author, is available at: https://www.audible.co.uk
BIC:
BGLA Autobiography: literary, BM Memoirs, JPFF Socialism & left-of-centre democratic ideologies