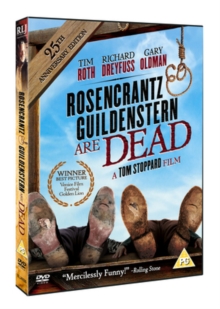 Rosencrantz and Guildenstern Are Dead
DVD (DVD / 25th Anniversary Edition)
Tom Stoppard directs this feature adaptation of his own play in which two minor characters from 'Hamlet' amble unknowingly toward their inevitable demise.
Rosencrantz (Gary Oldman) and Guildenstern (Tim Roth) arrive in Elsinore, summoned by King Claudius (Donald Sumpter) to discover the source of Prince Hamlet (Iain Glen)'s melancholy.
Trapped on the fringes of the plot, the inept duo struggle to make sense of their roles and motivation.
Interviews: Interviews from 2004 with Tim Roth, Gary Oldman, Richard Dreyfuss and more; 25th anniversary interview with Tom Stoppard