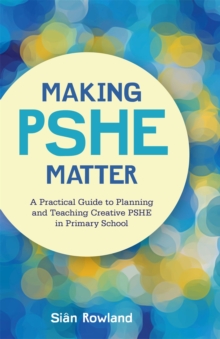 Making PSHE matter : a practical guide to planning and teaching creative PSHE in primary school
1785922866 / 9781785922862
Professional & Vocational Learn More
Tertiary Education (US: College)
Offering ideas for different ways to teach PSHE, this is a go-to resource for the busy teacher looking for creative and engaging techniques.
It provides tips, case studies and strategies on planning and pitching sessions as well as weaving PSHE into other aspects of the curriculum. The practical advice includes tips for what works with pupils, ideas for group games, ways to make discussions more engaging and proven techniques for creating inspiring sessions.
The book explores a range of complex PSHE topics such as social media, sex and sexuality, mental health and British values.
This tried-and-tested guidance will help to give teachers the confidence to create accessible and dynamic skills-based sessions which can make a real difference to pupils.
BIC:
JNH Education: care & counselling of students, JNLB Primary & middle schools, JNU Teaching of a specific subject, YQNP Educational: Personal, social & health education (PSHE)