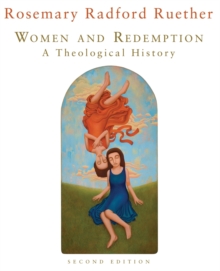 Women and redemption : a theological history
0800698169 / 9780800698164
Originally published: 1998.
Rosemary Radford Ruether's authoritative, award-winning critique of women's unequal standing in the church, which explored the complex history of redemption in evaluating conflict over the fundamental meaning of the Christian gospel for gender relations, is now in an updated and expanded edition.
Ruether highlights women theologians' work to challenge the patriarchal paradigm of historical theology and to present redemption linked to the liberation of women.
Ruether turns her attention to the situation of women globally and how the growing plurality of women's voices from multicultural and multireligious contexts articulates feminist liberation theology today.
BIC:
HRCM Christian theology, HRCV4 Christian aspects of sexuality, gender & relationships, JFSJ1 Gender studies: women