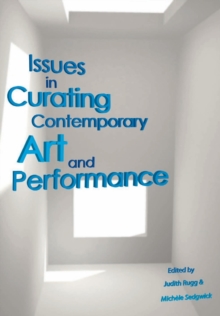 Issues in curating contemporary art and performance
1841505366 / 9781841505367
23 cm 183 p. : ill., ports.
Issues in Curating Contemporary Art and Performance proposes that the concept of curating is a complex field of enquiry.
By drawing together artists, curators, architects and cultural theorists, it proposes new approaches to curating and ways of developing critical enquiry about this increasingly expanding field.
Focusing on pertinent issues in curating contemporary art and performance, the book's four parts examine forms of thinking in contemporary curating; curating and the interdisciplinary; as intervention and contestation; as a form of reconsideration of conventional museum spaces and as a problematic in 'emerging' practices.
Beginning with a contextual 'map' of recent thinking on curating which examines some of the issues that have emerged in curatorial discourse over the last ten years, the volume then investigates curating as a research process and a form of collaboration in considering contemporary photography and video.
The relationships between writing and curating, reception and encounter is proposed as part of a way of thinking as a critical spatial practice, and cross-disciplinary issues are considered in curating science / art exhibitions.
Historical and contemporary perspectives examine issues of gender and marginalisation and diversity; and the particular issues relating to curating and practices such as animation, site-specific dance and computer-based work are discussed.
BIC: