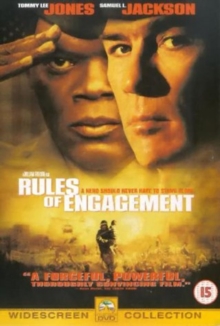 (15) Suitable for 15 years and over.
Colonel Terry Childers (Samuel L. Jackson) is a war hero whose peacekeeping mission to Yemen goes horribly wrong when he orders his men to open fire on a group of demonstrators.
The colonel is subsequently charged with murder and asks his comrade-in-arms Hays Hodges (Tommy Lee Jones), a military lawyer of questionable ability, to defend him at the court martial.
But when Hodges starts investigating he is surprised to find evidence that points to a cover-up.
William Friedkin ('The Exorcist', 'The French Connection') directs.
Interviews: Cast and crew.
Commentary: William Friedkin.
Other Documentary: 'A Look Inside'.