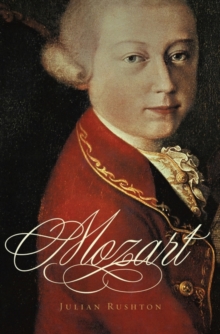 0195388259 / 9780195388251
Usually dispatched within 4 weeks
Reprint. Originally published: 2006.
Wolfgang Amadeus Mozart is one of the great icons of Western music.
An amazing prodigy who toured the capitals of Europe as a child, astonishing royalty and professional musicians with his precocious skills, in his adulthood he wrote some of the finest music in the European tradition. Julian Rushton offers a concise and up-to-date biography of this musical genius, combining a well-researched life of the composer with an introduction to the works-symphonic, chamber, sacred, and theatrical-of one of the few who have composed undisputed masterpieces in every genre of his time.
Rushton presents a vivid portrait, ranging from Mozart the Wunderkind-travelling with his family from Salzburg to Vienna, Paris, London, Rome, and Milan-to the mature composer of perenniallyfascinating operas such as "The Marriage of Figaro," "Don Giovanni," and "The Magic Flute." During the past half-century, scholars have thoroughly explored Mozart's life and music, offering new interpretations based on their historical context, and providing a factual basis for confirming or more oftendebunking, fanciful accounts of the man and his work.
Rushton takes full advantage of these biographical and musical studies as well as the definitive New Mozart Edition to provide an accurate account of Mozart's life and, equally important, an insightful look at the music itself, complete with illustrative musical examples. An engaging biography for general readers that will also be an informative resource for scholars, this new addition to the prestigious Master Musicians series puts forward an authoritative interpretation of one of the defining figures of European culture. "Crisp, learned." -Alex Ross, The New Yorker "The finest short biography of Mozart that I know-incisive, insightful, and elegantly written.
If I had to recommend one book that explained the man and his music, this would be it." -Cliff Eisen, Department of Music, King's College London"Always sensitive, judicious, and stimulating.
It is too short-not too short for Mozart but for Rushton, who has certainly much more to say that would be of interest." -Charles Rosen, The New York Review of Books "A valuable addition to the ever-growing literature on Mozart." -Library Journal
BIC:
AVGC4 Classical music (c 1750 to c 1830), AVH Individual composers & musicians, specific bands & groups, BGF Biography: arts & entertainment