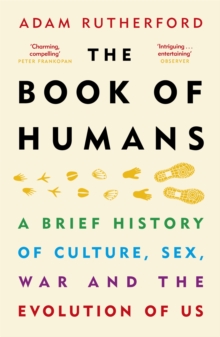 The book of humans : a brief history of culture, sex, war and the evolution of us
1780229089 / 9781780229089
20 cm 259 pages : illustrations (black and white)
General (US: Trade) Learn More
Professional & Vocational
Tertiary Education (US: College)
Reprint. Originally published: 2018.
*FROM THE BESTSELLING AUTHOR OF A BRIEF HISTORY OF EVERYONE WHO EVER LIVED and HOW TO ARGUE WITH A RACIST* WHAT MAKES US HUMAN?Waging war?Sex for pleasure?Creating art?Mastery of fire?In this thrilling tour of the animal kingdom, Adam Rutherford tells the story of how we became the unique creatures we are today.
Illuminated by the latest scientific discoveries, THE BOOK OF HUMANS is a dazzling compendium of what unequivocally fixes us as animals, and reveals how we are extraordinary among them. ***'Adam Rutherford is a superb communicator, who eruditely explores the borderlands of history, archaeology, genetics and anthropology in this fascinating tour of our species' DAN SNOW'This superbly accessible discussion about who we humans really are is important and necessary' CHRIS PACKHAM'Charming, compelling and packed with information.
I learned more about biology from this short book than I did from years of science lessons' PETER FRANKOPAN'An outstandingly clear and witty account that shows beyond doubt how much we are part of the animal world, and yet at the same time how different we have become' HENRY MARSH
BIC: