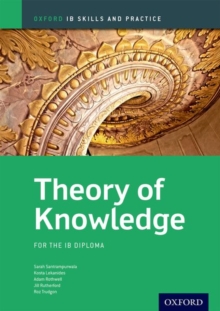 Oxford IB Skills and Practice: Theory of Knowledge for the IB Diploma
0199129746 / 9780199129744
211 x 297 mm, 434 grams 176 pages, Full Colour
Primary & Secondary Education (US: Elementary & High School) Learn More
Providing a solid grounding for TOK assessment, this focused skills development tool is exactly mapped to the 2013 syllabus for SL and HL and will build TOK confidence right from the start.
Ensuring learners fully understand Knowledge claims, the Areas of knowledge and Ways of knowing, students will actively employ their skills, developing a strong foundation to draw on in assessment.
Learners will develop the ability to contextualise knowledge claims within distinctintellectual movements and cultural factors, sharpening critical and independent thought.
Step-by-step guidance on TOK essays and presentations support top achievement, while real-world connections keep learning fresh and fully in line with the learner profile. Build a strong TOK learning base that will help students confidently tackle the complex TOK ideasFocus on developing all the crucial skills with a practical learning scaffold to progress student confidence and achievementDevelop confidence right from the start and ensure comprehensive, assured understandingDemonstrate best practice with sample student material that connects all the concepts and supports top achievementSupport learners through the 2013 syllabus - comprehensive syllabus match that fully covers all the new AOKs, WOKs and moreBuild strong assessment potential with targeted skills work to ensure learners can apply TOK skills in subject assessmentsDesigned to support the TOK Course BookAbout the series:Cement student confidence and fully embed all the key skills central to IB study.
IB Skills and Practice provides learners with the essential practice needed to enable confident skills application, tangibly helping learners transition into tackling complex concepts and ideas.
BIC:
4KL Designed / suitable for A & AS Level, HPK Philosophy: epistemology & theory of knowledge