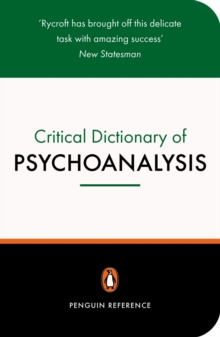 A critical dictionary of psychoanalysis (2nd ed)
0140513108 / 9780140513103
Reprint. This ed. originally published: London; Nelson, 1968.
Charles Rycroft's "Critical Dictionary of Psychoanalysis" is an established reference work providing clear definitions and critical discussions of the technical terms used in psychoanalysis. 'An accurate and witty guide to the meaning of psychoanalytic terms ...[it] also explains the various controversies which have disfigured the psychoanalytic movement and which are such a puzzle to those outside it.
For anyone concerned with psychoanalysis and its offshoots this is an indispensable book' - Anthony Storr.
BIC:
GBC Reference works, JMAF Psychoanalytical theory (Freudian psychology), MMH Psychiatry, VSP Popular psychology