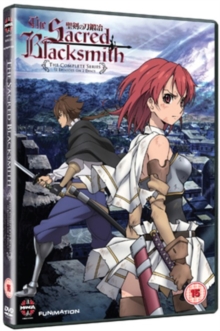 (15) Suitable for 15 years and over.
Japanese anime in which a brash young female knight attempts to learn her trade.
Cecily Cambell (voice of Ayumi Fujimura) is from the city of Housman, one of the democratic trade cities founded by her grandfather.
Cecily is proud of her heritage and becomes a knight in order to help protect the values of the cities from their enemies.
Unfortunately, at first her skills do not match her ideals and she must be rescued in battle by Luke (Nobuhiko Okamoto), a blacksmith with the power to make magical weapons.
Cecily and Luke strike up a tempestuous friendship, unified by the need to defend the city but often at odds with each other on a personal level.
The episodes are: 'Knight', 'Devil's Contract - Valbanill', 'Demon Sword', 'Pledge', 'Ties - Together', 'Princess', 'Family', 'Departure - Resolution', 'Remnants - Lisa', 'Victim of Love - Tragedy', 'Truth' and 'Blacksmith'.