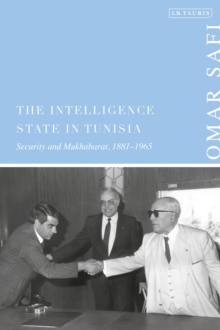 The Intelligence State in Tunisia : Security and Mukhabarat, 1881-1965
1838605711 / 9781838605711
Stock expected by 09/06/2020
156 x 234 mm 344 pages, 3 Maps
For most Arab regimes, intelligence, security apparatus and the secret services, are central to their domestic politics.
Yet despite this, very little scholarly attention has been paid to the relationship between intelligence and politics in any Arab state.
This book examines how security apparatus and intelligence influenced the domestic politics of Tunisia, from the implementation of French Protectorate in 1881 to the aftermath of the independence up to 1965. Based on unprecedented access to the sources of the Ministry of Interior and the First Ministry during Bourguiba's regime, as well as the national, diplomatic and military archives of France, Italy and the United Kingdom, the book is the first to trace the evolution of the Tunisian security community.
Omar Safi argues that from an apparatus designed to maintain colonial control, intelligence became an instrument to drive the political agendas of the ruling elite.
The book sheds new light on the influence of intelligence, presenting it as the fundamental, and generally ignored, 'missing dimension' of North African domestic politics.
BIC:
1HBT Tunisia, HBJF1 Middle Eastern history, JWKF Military intelligence