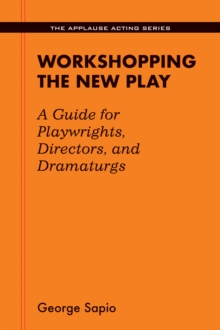 Workshopping the New Play : A Guide for Playwrights Directors and Dramaturgs
1495088227 / 9781495088223
153 x 228 mm, 268 grams 160 pages
EWorkshopping the New PlayE is a guide for playwrights directors dramaturgs and other theater professional and students.
The book begins with an overview of the basics of playwriting and goes on to cover all aspects of the new-play workshopping process: selecting a director and/or dramaturg to run the workshop sessions assembling a team of actor/readers and dealing with constructive criticism putting together a staged reading of one's work structuring a successful talkback and properly and professionally submitting one's work to theaters.
Throughout the book are essays by well-known theater professionals: playwrights teachers dramaturgs an artistic director a spoken word performer and workshopping experts.
The book is written in a friendly nonacademic style but should be valuable for educators as well as practitioners of theater.
BIC: