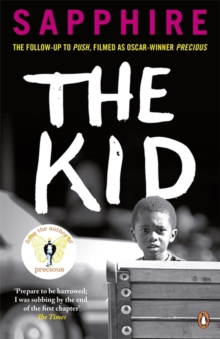 The kid
0241957303 / 9780241957301
Reprint. Originally published: New York: Penguin; London: Hamish Hamilton, 2011.
In Push Sapphire told the story of Precious Jones and in 2009 her book was adapted into the Oscar-winning film Precious.
The Kid is Sapphire's heartbreaking sequel to Push. Abdul is nine years old when his mother dies. Parentless, he is sent to a foster home and then to a Catholic orphanage.
But the priests charged to care for him abuse his trust terribly. Abdul reacts in the most frightening way imaginable.
Soon he is trapped in a dark cycle of sexual violence and betrayal.
Yet through dance, in controlling his body, he discovers a way he might somehow break free and become himself . . . A harrowing and powerful novel set in New York, The Kid is a portrait of a boy growing up in a cruel world. 'Prepare to be harrowed; I was sobbing by the end of the first chapter . . . Sapphire writes with a burning anger that gives this novel an explosive power' The Times'Hardcore.
Brave, bold, uncompromising. The breathtaking velocity and visceral power of Sapphire's prose soars off the page' Observer'Captures the gruelling heartbreak of trying to love anything when the world doesn't love you enough' New York Herald Tribune'A dark and punishing tale' Big Issue'A fearless writer and thinker of enormous talent, insight and skill.
Abdul's story is frighteningly realistic. A consummate work of art, style and brains. Full of the energy of pain, rage, grief and doubt' List'Devastating.
An accomplished work of art . . . hard to forget' Los Angeles Times'Urgent, troubling, harrowing, masterfully narrated, powerful' DivaSapphire is the author of two poetry collections, Black Wings and Blind Angels and American Dreams and the bestselling novel Push.
The film adaptation of her novel, Precious, received the Academy Awards for Best Screenplay and Best Supporting Actress - for actor Mo'Nique - in addition to the Grand Jury Prize and Audience awards in the U.S.
Dramatic Competition at Sundance. In 2009 she was a recipient of a United States Artist Fellowship.
She lives in New York City.
BIC: