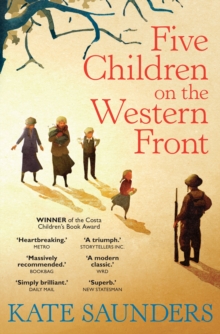 Five children on the Western Front
0571323189 / 9780571323180
Based on the novels written by Edith Nesbit.
An incredible, heart-wrenching sequel to E. Nesbit's Five Children and It, set on the eve of the First World War.
The five children have grown up - war will change their lives for ever. Cyril is off to fight, Anthea is at art college, Robert is a Cambridge scholar and Jane is at high school.
The Lamb is the grown up age of 11, and he has a little sister, Edith, in tow.
The sand fairy has become a creature of stories ... until he suddenly reappears. The siblings are pleased to have something to take their minds off the war, but this time the Psammead is here for a reason, and his magic might have a more serious purpose. Before this last adventure ends, all will be changed, and the two younger children will have seen the Great War from every possible viewpoint - factory-workers, soldiers and sailors, nurses and the people left at home, and the war's impact will be felt right at the heart of their family.
BIC:
5AK Interest age: from c 9 years, YFH Fantasy & magical realism (Children's / Teenage)
The title has been replaced.To check if this specific edition is still available please contact Customer Care +44(0)1482 384660 or schools.services@brownsbfs.co.uk, otherwise please click 9780571342327 to take you to the new version.
Title Unavailable: Out of Print
Other Formats