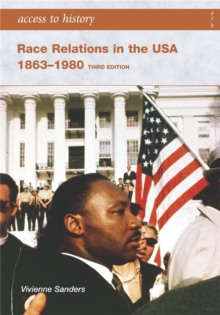 Race relations in the USA 1863-1980 (3rd ed)
0340907053 / 9780340907054
The new editions of "Access to History" combine all the strengths of this well-loved series with a new design and features that allow all students access to the content and study skills needed to achieve exam success.
The third edition of "Race Relations in the USA" since 1900 has been revised to reflect the needs of the current specifications.
The new edition gives a detailed account of the history of Black, Hispanic, Native and Asian Americans since the American Civil War onwards and illustrates the changing nature of the political, social and economic struggles throughout this period.
Particular attention is paid to the role of individuals such as Booker T Washington, Harry Truman and Martin Luther King, as well as examining the roles of government and other organisations in influencing the changes, progress and regressions which characterise this history of race relations.
Throughout the book key dates, terms and issues are highlighted, and historical interpretations of key debates are outlined. Summary diagrams are included to consolidate knowledge and understanding of the period, and exam style questions and tips for each examination board provide the opportunity to develop exam skills.
BIC:
1KBB USA, 3JJ 20th century, 4KL Designed / suitable for A & AS Level, HBJK History of the Americas, HBLL Modern history to 20th century: c 1700 to c 1900, HBLW 20th century history: c 1900 to c 2000, JFFJ Social discrimination & inequality, JFSL Ethnic studies