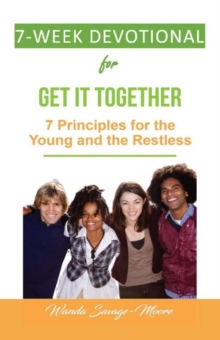 7 Week Devotional for Get it Together: : 7 Principles for the Young and the Restless
1098300920 / 9781098300920
9 x 215 mm, 0 grams 82 pages
The seven Get it Together Principles are: Principle One: Education Avoid StasisPrinciple Two: Career Maximizing OptionsPrinciple Three: Health and Well-Being Pursue WholenessPrinciple Four: Self-EsteemKnow Your WorthPrinciple Five: RelationshipSeek Wise CounselPrinciple Six: SpiritualityThe Answer to it AllPrinciple Seven: Purpose The Why of ItThrough the Insight for Growth; Scriptures for Enlightenment; and Prayers for Transformation offered each day in the devotional, it is my belief that all who share in it will never be the same.
Developing the devotional was an immense blessing for me.
I pray that God will use it to bring blessings to many others worldwide.
BIC: