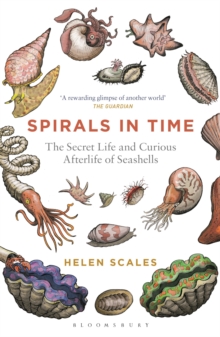 Spirals in time : the secret life and curious afterlife of seashells
1472911385 / 9781472911384
20 cm 304 pages, 8 unnumbered pages of plates : illustrations (black and white, and colour)
Reprint. Originally published: 2015.
'A rewarding glimpse of another world' THE GUARDIANSeashells are the sculpted homes of a remarkable group of animals: the molluscs.
These are some of the most ancient and successful animals on the planet, and they have fascinating tales to tell.
Spirals in Time charts the course of shells through history, from the first jewelry and the oldest currencies through to their use as potent symbols of sex and death, prestige and war, not to mention a nutritious (and tasty) source of food.
In this book, Helen Scales leads us on a journey into the realm of these undersea marvels.
She goes in search of everything from snails that 'fly' underwater to octopuses accused of stealing shells and giant mussels with golden beards. Shells are also bellwethers of our impact on the natural world.
The effects of overfishing and pollution are, of course, serious concerns, but perhaps more worrying is ocean acidification, which causes shells to simply melt away.
Spirals in Time urges you to ponder how seashells can reconnect us with nature, and heal the rift between ourselves and the living world. One of the books of the year - Nature, Guardian, The Economist, The Times
BIC:
PDZ Popular science, PSPM Marine biology, WNCS1 Sea life & the seashore