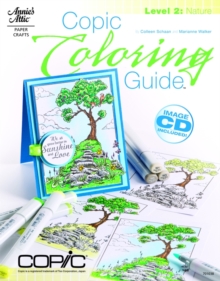 Copic coloring guideLevel 2,: Nature
1596354097 / 9781596354098
Stock expected by 24/07/2019
The popularity of Copic markers in the paper-crafting arena continues to grow at an astonishing rate.
As a result, there is more and more need for instructional material to assist crafters in achieving successful results when using these high-quality markers.
With two well-known instructors leading the way, Copic Coloring Guide Level 2: Nature, is the next step in the Coloring Guide series.
This series contains informative and educational material that crafters of all skill levels will find essential to expand their Copic coloring skills.
From the introductory suggestions for creating a Copic journal and tips for working with digital images to explaining the advanced blending techniques and detailed tutorials for coloring specific objects, our coloring experts present useful and helpful information in an easy-to-follow format.
Also included are a variety of eye-catching card designs with step-by-step coloring instructions to inspire enthusiastic card makers.
A special CD with all of the hand-drawn images used in the tutorial section is also included.
Whether beginner, intermediate or advanced, coloring artists are sure to enjoy the information and projects included in Copic Coloring Guide Level 2: Nature.
BIC: