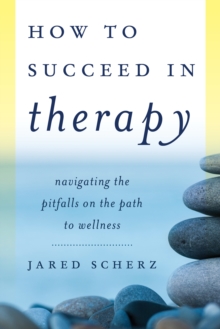 How to Succeed in Therapy : Navigating the Pitfalls on the Path to Wellness
1442241349 / 9781442241343
160 x 235 mm, 508 grams 246 pages, 1 Tables, unspecified
Seeking therapy is among the most important mental health decisions a person will make and, yet, many clients are poorly prepared for what lays ahead.
Here, Jared Scherz outlines the process for seeking therapy, from finding the right therapist and approach, to navigating the insurance and billing systems available.
He details the most common pitfalls clients and their therapists face once therapy has commenced, and guides readers to avoiding those mistakes that can sabotage counseling. Whether considering therapy for the first time or evaluating current help, this is the perfect companion to personal growth.
Different from other books, insight is offered into types of therapy, such as group, marriage, or individual counseling, as well as theoretic orientations to help readers understand therapeutic approaches from the point of view of the provider.
Scherz encourages a greater sense of personal responsibility and empowerment to navigate the healing and wholeness paths.
Alternative health practices are also outlined to help people who wish to take a more holistic approach to wellness, both mental and physical.
Readers will feel empowered by this book to take the first steps necessary to get the help they need, to continue along a path already chosen, or to take a different approach when one is not already working.
BIC: