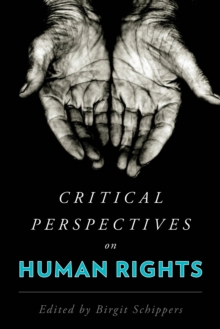 Critical Perspectives on Human Rights
1786600145 / 9781786600141
160 x 230 mm, 585 grams 274 pages
Critical Perspectives on Human Rights provides cutting-edge interventions into contemporary perspectives on rights, ethics and global justice.
The chapters, written by leading scholars in the field, make a significant and timely contribution to critical human rights scholarship by interrogating the significance of human rights for critical theory and practice.
While the contributions engage sensitively yet thoroughly with the regulatory, disciplinary, and exclusionary effects of human rights, they do so without giving up on the transformative potential of human rights.
By thinking productively through the exclusions, paradoxes and aporias of human rights, Critical Perspectives on Human Rights is a key reference text for students and scholars in this important area of inquiry.
BIC: