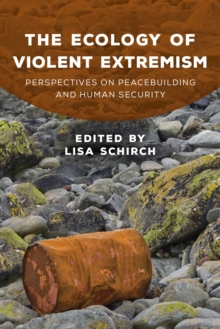 The Ecology of Violent Extremism : Perspectives on Peacebuilding and Human Security
1786608456 / 9781786608451
Stock expected by 02/10/2021
162 x 228 mm, 930 grams 454 pages, Illustrations, unspecified; Black & White Illustrations
The Ecology of Violent Extremism brings together leading theorists and practitioners to describe an ecological or systems approach to violent extremism.
Nothing can be fixed until it is understood. News media keep us alarmed to the close---up devastation of acts of terrorism.
This book climbs a ladder to get a better view of the problem.
What is beneath and beyond violent extremism? How do we respond to the problem of violent extremism in ways that do not fertilize the root causes that fueled it in the first place?
While many books offer one or two hypotheses for preventing terrorism, this book gives readers the tools to look at the problem from many different angles.
The book offers a "map of violent extremism" drawing connections between twenty---five factors that correlate with violent extremism (VE).
On a spectrum, counterterrorism seeks to disrupt, detain, and destroy terrorist plans and networks.
P/CVE seeks to prevent and counter the belief systems that support violent extremism.
Peacebuilding addresses the longer---term factors and root causes driving VE.
An ecological approach to VE recognizes that interventions also interact with each other.
For example, some approaches to counterterrorism also motivate further recruitment to VE groups and undermine peacebuilding interventions.
Readers finish the book recognizing the debates within the very definition of violent extremism, and understanding a broader paradigm for how we understand and respond to violent extremist beliefs and acts of terror.
BIC:
HRAX History of religion, JPQB Central government policies, JPS International relations, JW Warfare & defence