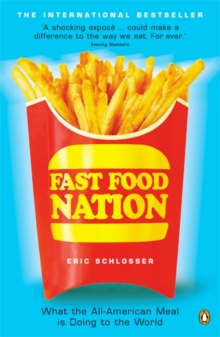 Fast food nation : what the all-American meal is doing to the world (New [ed.])
0141006870 / 9780141006871
Previous ed.: New York: Houghton Mifflin; London: Allen Lane, 2001.
The story of fast food is to a large extent the story of post-war America.
In a perverse way, it is also the story of Britain since the deregulation of our food and labour markets in the early 1980s.Schossler's account takes in the whole of this prototypically global industry, from its origins in the hysterical competition of the southern Californian diners to the modern saturation of urban and suburban locations, from the revolutions in cattle raising and slaughtering, to the employment practices of the industry leaders.
BIC: