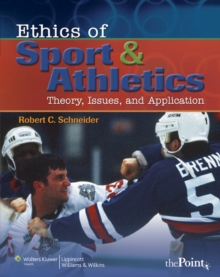 Ethics of sport and athletics : theory, issues, and application
0781787912 / 9780781787918
Stock expected by 18/12/2019
This well-organized guide covers the theories and mechanics of moral reasoning, ethical and unethical behavior in sport, and the development of moral education through sport.
A practical, case-based approach to sport-related dilemmas teaches readers how to successfully apply moral reasoning skills in good decision making.
Readers will also explore strategies to improve the overall moral integrity of sport without diminishing its competitive element. Helpful Learning Features :Mini case studies , with open-ended questions, hone skills for making good moral decisionsLighthearted cartoons reinforce learned moral concepts and develop decision-making skillsEthical terms , found in text boxes in each chapter, keep the reader on track with key terms and their definitionsDecision-making models form the foundation to solving ethical dilemmasCase studies at the end of each chapter explore several sport issues and underscore presented reasoning modelsA searchable online version of the text enables readers to quickly locate specific topics.
Resources for faculty members are also available on our companion Website.
BIC:
HPQ Ethics & moral philosophy, WS Sports & outdoor recreation