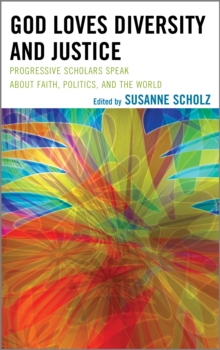 God Loves Diversity and Justice : Progressive Scholars Speak about Faith, Politics, and the World
0739173189 / 9780739173183
Usually dispatched within 2 weeks
161 x 234 mm, 508 grams 248 pages
Both personal and scholarly in tone, this book encourages readers to think theologically, ethically, and politically about the statement that declares: "God loves diversity and justice." The multi-religious, multi-ethnic, multi-disciplinary, and multi-gendered identities of the eleven contributors and two respondents deepen the conversation.
It considers questions such as: Do we affirm or challenge this theological statement?
Do we concentrate on "God" in our response or do we interrogate what diversity and justice mean in light of God's love for diversity and justice?
Alternatively, do we prefer to ponder the verb, to love, and consider what it might mean for society if people really believed in a divinity loving diversity and justice?
Of course, there are no easy and simple answers whether we consult the Sikh scriptures, the Bible, the Qur'an, the movies, the Declaration of Human Rights, or the transgender movement, but the effort is worthwhile.
The result is a serious historical, literary, cultural, and religious discourse that fends against intellectually rigid thought and simplistic belief systems across the religious spectrum.
In our world in which so much military unrest and violence, economic inequities, and religious strife prevail, such a conversation nurtures theological, ethical, and political possibilities of inclusion and justice.
BIC:
HRAB Philosophy of religion, HRAC Comparative religion, HRAM2 Religion & politics, HRLM Religious life & practice
£49.95
The title has been replaced. To check if this specific edition is still available please contact Customer Care +44(0)1482 384660 or schools.services@brownsbfs.co.uk, otherwise please click 9781498557115 to take you to the new version.
* Variable discounts between 0% and 15% are applied to items where BBfS cannot determine exact discounts from suppliers.