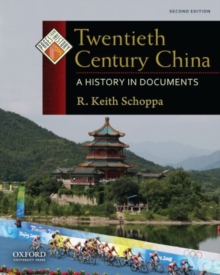 Twentieth century China : a history in documents (2nd ed)
0199732000 / 9780199732005
Usually dispatched within 4 weeks
The twentieth century was a time of great change in China-for its government, economy, culture, and everyday life.
It was a period of revolutions, and Twentieth Century China chronicles these uprisings with the words and images of the participants.
The manifesto delivered by Sun Yat-sen in 1905, for example, details his plan to oust the Manchus; an editorial in a student journal encourages the activities of the May Fourth Movement in 1919; a 1933 speech by Chiang Kai-shekcondemns China's enemies, the Communists and the Japanese; and the lyrics of a Chinese rock star give voice to the student demonstrations at the end of the 1980s. This is the story of the people-leaders and followers-whose decisions propelled modern Chinese history in erratic directions. Mao Zedong'spersonal physician recalls the phenomenon of the backyard steel furnaces and changes they brought to the Chinese landscape during Mao's Great Leap Forward; a poem written in 1979 expresses anger toward a general who destroyed a kindergarten to build a mansion on its site; and the box from the Chinese version of Monopoly, introduced in 1987, playfully illustrates the economic reforms of Deng Xiaoping and Jiang Zemin. Using a wide variety of primary sources, such as official reports and public statements, articles, political posters, cartoons, poetry, songs, and advertisements, R.
Keith Schoppa paints a picture of a society undergoing dramatic changes, both political and social.
Taken together, these documents tell a dramatic and often violent tale, alternately soaring with hope and plunging with despair, of a country undergoing a thorough transformation-a transformation that affects the world at large. This new edition includes an updated introduction with a new note on sources and interpretation; updated further reading; and updated list of websites. There are thirty-seven new sidebars that extend the coverage of the economic and cultural influence of Communism-for example, lyrics from a 1989 pop song that was interpreted as an allegory for the broken relationship between the Chinese state and people, excerpts from essays on China's economic policy, and a defense minister's frank letter toChairman Mao on the difficulties of realizing the Great Leap Forward plan. The twelve new photographs further document the upheaval of the past century. They include a scene of the deadly aftermath of a 1927 Communist uprising, a woman about to be executed for political dissent, and a view of theThree Gorges Dam-one of China's recent massive infrastructure projects.
Coverage now extends to the 2008 Beijing Olympics.
BIC:
1FPC China, 3JJ 20th century, HBJF Asian history, HBLW 20th century history: c 1900 to c 2000