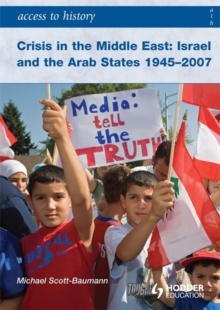 Crisis in the Middle East : Israel and the Arab states, 1945-2007
0340966580 / 9780340966587
25 cm iv, 156 p. : ill., maps, ports.
Ensure your students have access to the authoritative and in-depth content of this popular and trusted A Level History series.
For over twenty years Access to History has been providing students with reliable, engaging and accessible content on a wide range of topics.
Each title in the series provides comprehensive coverage of different history topics on current AS and A2 level history specifications, alongside exam-style practice questions and tips to help students achieve their best.
The series: - Ensures students gain a good understanding of the AS and A2 level history topics through an engaging, in-depth and up-to-date narrative, presented in an accessible way. - Aids revision of the key A level history topics and themes through frequent summary diagrams - Gives support with assessment, both through the books providing exam-style questions and tips for AQA, Edexcel and OCR A level history specifications and through FREE model answers with supporting commentary at Access to History online (www.accesstohistory.co.uk) Crisis in the Middle East: Israel and the Arab States 1945-2007 This title explores and analyses the history of conflict in the Middle East from British rule in the early twentieth century to the Iraq war in the twenty-first century. The Arab-Israeli conflict is the main focus of this book but it also examines: * Arab nationalism, especially in Egypt and Syria * the Islamic revolution in Iran in 1979 * the causes and consequences of three wars involving Iraq * the growth of political Islam and Islamic fundamentalism in the Middle East.
BIC:
1FB Middle East, 3JJP c 1945 to c 2000 (Post-war period), 3JM 21st century, 4KL Designed / suitable for A & AS Level, HBJF Asian history, HBLW 20th century history: c 1900 to c 2000