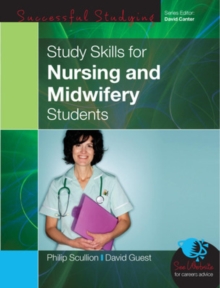 Study skills for nursing and midwifery students
033522220X / 9780335222209
Usually dispatched within 4 weeks
23 cm viii, 224 p. : ill.
schools Learn More
academic/professional/technical
This book will be particularly useful to the 86,000 who commence their initial nursing or midwifery studies annually.
Those qualified are obliged to continue their education and a large number do so via university based courses.
This cohort of around 90,000 part time students will also benefit from the realistic encouraging approach which recognises the feelings associated with entering university based education.
It is the combined efforts of a very experienced senior lecturer in nursing, with a background in adult nursing, expertise in disability issues and a wealth of experience teaching across related courses, and an experienced subject specialist librarian.
The challenges of the academic demands of diploma or degree level courses are made more manageable by equipping readers with essential skills and knowledge.
Learning in practice from patients and others using reflection is also covered as is the all important need to be able to use evidence and research proficiently.
A sympathetic approach is employed leading readers through text, exercises and bullet points of key information.Competence and confidence and thus developed in the engaged reader who will be weaned off dependence on others to fulfil their own lifelong learning needs.
BIC: