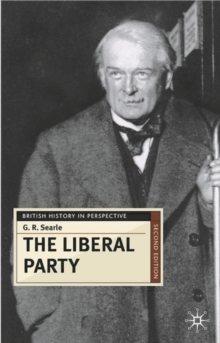 The Liberal Party : triumph and disintegration, 1886-1929 (2nd ed)
0333786610 / 9780333786611
Stock expected by 12/04/2020
advanced secondary Learn More
general
undergraduate
In the course of the 1920s the Liberal Party disappeared as a serious party of government, though its demise followed hard upon one of its greatest periods of success.
For many years historians have struggled to make sense of this strange story.
Some see the Party's collapse as the consequence of a deep moral or ideological crisis, a loss of belief in Liberalism as a creed the impact of the Great War, in particular, is said to have done irreparable damage to its adherents' self confidence.
Other historians think that the Liberals were replaced by Labour as a direct consequence of the growing importance of class divisions, though there is no clear agreement about when this important transition took place.
This book provides a balanced survey of the literature which has grown up around this topic.
It introduces readers to the major lines of interpretation and suggests ways in which seemingly divergent accounts might be reconciled.
This second edition now includes a new chapter on the Liberal Party and women's suffrage.
BIC:
1DBK United Kingdom, Great Britain, 3JH c 1800 to c 1900, 3JJ 20th century, HBJD1 British & Irish history, HBLL Modern history to 20th century: c 1700 to c 1900, HBLW 20th century history: c 1900 to c 2000, HBT History: specific events & topics, JPL Political parties