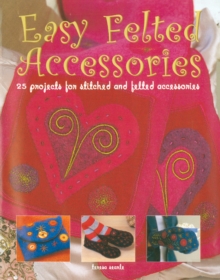 Easy felted accessories : 25 projects for stitched and felted accessories
1844481735 / 9781844481736
Usually dispatched within 2 weeks
Teresa Searle demonstrates her unique method of combining felted knitting with applique and embroidery to produce a wide range of richly coloured accessories for children and adults.
Projects include hats, mittens, slippers and scarves for adults and children, as well as jewellery such as brooches, hair clips and corsages.
Felted knitting also presents opportunities for recycling that favourite sweater that has shrunk in the wash.
Felted knitting can be made by placing pure wool knitting in a long wash in the washing machine.
This produces a shrunk fabric with the feel and look of felt, but the flexibility of knit.
It can be cut without fear of fraying, making it ideal for applique and embroidery projects.
BIC:
* Variable discounts between 0% and 15% are applied to items where BBfS cannot determine exact discounts from suppliers.