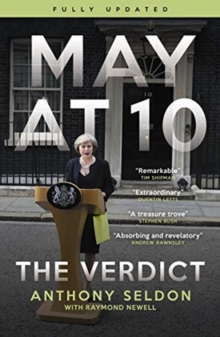 May at 10 : the verdict (Fully updated [edition])
1785906186 / 9781785906183
20 cm xviii, 715 pages : illustrations (black and white)
Updated with significant new material, the paperback edition of the 2019 political bestseller. Theresa May presided over the most dramatic and historic peacetime premiership for a century.
May at 10 tells the compelling inside story of the most turbulent period in modern British politics for 100 years. Written by one of Britain's leading political and social commentators, May at 10 describes how Theresa May arrived in 10 Downing Street in 2016 with the clearest, yet toughest, agenda of any Prime Minister since the Second World War: delivering Brexit.
What follows defies belief or historical precedent. This story has never been told. Including a comprehensive series of interviews with May's closest aides and allies, and with unparalleled access to the advisors who shaped her premiership, Downing Street's official historian Anthony Seldon decodes the enigma of the Prime Minister's tenure.
Drawing on all his authorial experience, he unpacks what is the
BIC:
1DBK United Kingdom, Great Britain, 3JMG c 2010 to c 2020, BGH Biography: historical, political & military, JPHL Political leaders & leadership