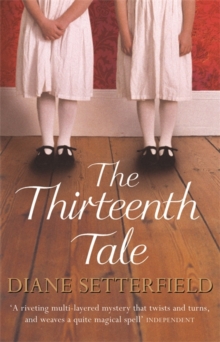 The thirteenth tale
0752881671 / 9780752881676
Reprint. Originally published: 2006.
THE THIRTEENTH TALE was a New York Times No.1 bestseller - a first for a British debut novel. The book was won in a massive auction in the UK and rights have been sold all over the world for record sums. Heyday Films have bought the film rights. THE THIRTEENTH TALE has received incredible reviews: 'Simply brilliant - I haven't enjoyed a first novel so much for absolutely ages' Kate Mosse. 'A remarkable first novel ... a riveting multi-layered mystery that twists and turns, and weaves a quite magical spell' Independent. 'Vastly entertaining' Daily Mail. 'This is an excellent emotional mystery w
Angelfield House stands abandoned and forgotten. It was once home to the March family - fascinating, manipulative Isabelle, brutal, dangerous Charlie, and the wild, untamed twins, Emmeline and Adeline.
But Angelfield House hides a chilling secret which strikes at the very heart of each of them, tearing their lives apart...Now Margaret Lea is investigating Angelfield's past - and the mystery of the March family starts to unravel.
What has Angelfield been hiding? What is its connection with the enigmatic writer Vida Winter? And what is the secret that strikes at the heart of Margaret's own, troubled life?
As Margaret digs deeper, two parallel stories unfold, and the tale she uncovers sheds a disturbing light on her own life...
BIC:
FA Modern & contemporary fiction (post c 1945)
Prizes:
S 2007 British Book Awards: Newcomer of the Year