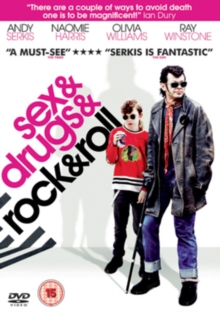 Sex and Drugs and Rock and Roll
(15) Suitable for 15 years and over.
Biopic of late British singer-songwriter Ian Dury. Andy Serkis stars as Dury, who contracted polio at the age of ten but defied all expectations by overcoming the debilitating effects of the disease and going on to become one of the founders of the new wave scene in Britain in the 1970s.
The film tracks his ongoing battle with the disease and the effects of fame on his personal relationships.
Olivia Williams, Ray Winstone and Mackenzie Crook co-star.