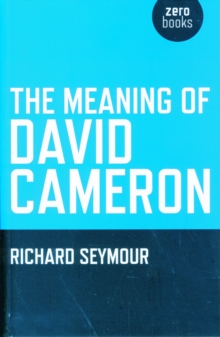 The meaning of David Cameron
1846944562 / 9781846944567
Usually dispatched within 2 weeks
David Cameron has been sold to the British electorate as a thoroughly modern politician, part Blair, part Thatcher, a one nation conservative with a soft spot for social democracy, the green movement, big and small business, youth, minorities, traditionalists, the armed forces and the old.
Has a politician ever been sold as so many things to so many people, at home in fashion magazines as he is at Party conferences?
But despite being told, arguably more, about Cameron the man than any other politician he remains vacuous, strangely unformed, a cipher for the real interests and forces he represents.
The Meaning of Cameron is an unmasking of the false politics Cameron embodies, and an examination of the face the mask has eaten into.
BIC:
HPS Social & political philosophy, JPA Political science & theory