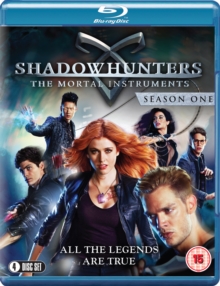 Shadowhunters: Season One
Blu-ray (Blu-ray / Box Set)
All 13 episodes from the first series of the supernatural drama based on the novels by Cassandra Clare.
On Clary Fray (Katherine McNamara)'s 18th birthday, she discovers that she is part-angel and belongs to a secret army who call themselves the Shadowhunters, sworn to protect the human race from demons.
Suddenly, Clary is opened up to a whole new world she never knew existed and begins to unveil her hidden powers.
However, on the same evening, Clary's mother is abducted, forcing Clary to find out who she can really trust and must track down and save her mother before it's too late.
The episodes are: 'The Mortal Cup', 'The Descent Into Hell Isn't Easy', 'Dead Man's Party', 'Moo Shu to Go', 'Of Men and Angels', 'Major Arcana', 'Bad Blood', 'Rise Up', 'This World Inverted', 'Blood Calls to Blood', 'Malec' and 'Morning Star'.