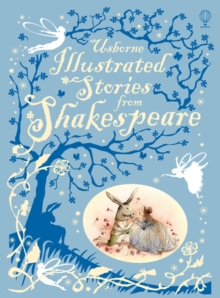 Illustrated stories from Shakespeare (New ed)
1409554651 / 9781409554653
This is a wonderful collection of retellings of six of William Shakespeare's best-loved plays - a perfect mix of comedy, tragedy, magic and romance - retold for younger readers.
Full of colourful illustrations from the "Usborne Young Reading Programme".
It contains "A Midsummer Night's Dream", "Hamlet", "Macbeth", "Romeo and Juliet", "The Tempest" and "Twelfth Night".
It includes a section at the back on the life and times of William Shakespeare.
It comes now in a shrink-wrapped, luxurious cloth-bound edition, making it a gift to treasure.
BIC:
4KHJ For National Curriculum Key Stage 2, 5AH Interest age: from c 7 years, YFA Classic fiction (Children's / Teenage)