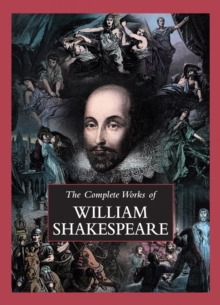 The Complete Works of William Shakespeare
1855349973 / 9781855349971
198 x 273 mm, 1080 grams 752 pages
Set in clear, easy-to-read type, this budget, slim, lightweight volume is a favourite study text with students.
It also features a glossary of obsolete words and words which vary from their ordinary established meaning.
William Shakespeare (1564 - 1616), the greatest English dramatist and poet, was born in Stratford-upon-Avon.
His surviving works consist of 38 plays, 154 sonnets, two long narrative poems, and a number of other poems.
His plays have been translated into every major language and are performed more often than those of any other playwright.
This volume contains the complete dramatic works of the literary genius whose work has enthralled audiences since Elizabethan times.
Shakespeare was a respected poet and playwright in his own day, but his reputation did not rise to its present heights until the nineteenth century.
In his works you will find tragedy, comedy, history, romance, fantasy, horror and a vast range of human experience that is still poignant in modern times.
The Romantics, in particular, acclaimed Shakespeare's genius, and the Victorians worshipped him. In the twentieth century, his work was repeatedly adopted and rediscovered by new movements in scholarship and performance.
Today, his plays remain extremely popular and are continually studied, performed and reinterpreted in diverse cultural and political contexts throughout the world.
BIC:
DCF Poetry by individual poets, DDS Shakespeare plays, DSGS Shakespeare studies & criticism