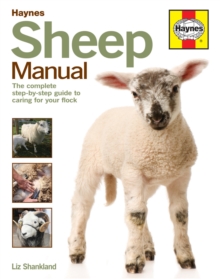 Haynes sheep manual : the step-by-step guide to caring for your first flock
085733770X / 9780857337702
28 cm 187 pages : illustrations (black and white, and colour)
Sheep have to be one of the most versatile livestock animals on the planet.
All-in-one grazing and fertilising machines, they provide meat and milk for our tables, wool for clothing, carpets, and insulation, skins for leather and rugs, and a whole host of other products.
If you have recently acquired sheep or are thinking of starting a small flock, this book is for you.
The Sheep Manual is a quick-reference, up-to-date, and easy-to-read guide which helps you choose the right breed for your land, provides essential health and welfare information, and guides you through your first breeding and lambing season.
BIC:
WND The countryside, country life, WNF Farm & working animals