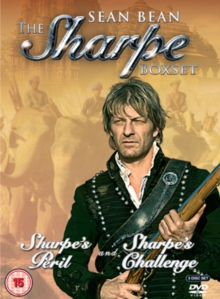 Sharpe's Challenge/Sharpe's Peril
(15) Suitable for 15 years and over.
Sean Bean returns as the swashbuckling soldier Richard Sharpe in this double-bill of the ITV drama based on the popular characters created by Bernard Cornwell.
In 'Sharpe's Challenge' it's 1817, two years after the final defeat of Napoleon at Waterloo, and the Duke of Wellington (Hugh Fraser) dispatches Sharpe to India to rescue a general's daughter who has been captured by an Indian warlord.
With the loyal Sergeant Harper (Daragh O'Malley) at his side, Sharpe travels deep into enemy territory, searching for the kidnapped girl while at the same time trying to avoid the attentions of the beautiful - but deadly - Indian princess Madhuvanthi (Padma Lakshmi).
In 'Sharpe's Peril', Sharpe (Bean) and Harper (O'Malley) are travelling through bandit country on their way to Madras when they come across a run-down army unit fearful of attack.
When the dreaded onslaught finally happens, Sharpe is called on to take control of the situation and lead the survivors to safety.