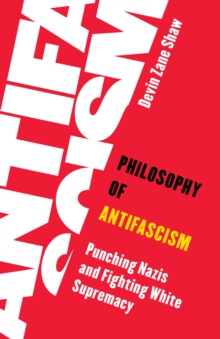 Philosophy of antifascism : punching Nazis and fighting white supremacy
1786615576 / 9781786615572
22 cm 149 pages : illustrations (black and white)
On January 20th, 2017, during an interview on the streets of Washington D.C., white nationalist Richard Spencer was punched by an anonymous antifascist.
The moment was caught on video and quickly went viral, and soon "punching Nazis" was a topic of heated public debate.
How might this kind of militant action be conceived of, or justified, philosophically?
Can we find a deep commitment to antifascism in the history of philosophy?Through the existentialism of Simone de Beauvoir, with some reference to Fanon and Sartre, this book identifies the philosophical reasons for the political action being enacted by contemporary antifascists.
In addition, using the work of Jacques Ranciere, it argues that the alt-right and the far right aren't a kind of politics at all, but rather forms of paramilitary mobilization aimed at re-entrenching the power of the state and capital. Devin Shaw argues that in order to resist fascist mobilization, contemporary movements find a diversity of tactics more useful than principled nonviolence.
Antifascism must focus on the systemic causes of the re-emergence of fascism, and thus must fight capital accumulation and the underlying white supremacism.
Providing new, incisive interpretations of Beauvoir, existentialism, and Ranciere, he makes the case for organizing a broader militant movement against fascism.
BIC:
HPQ Ethics & moral philosophy, HPS Social & political philosophy, JPHX Political structures: totalitarianism & dictatorship