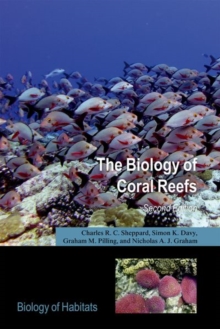 The biology of coral reefs (Second edition)
0198787359 / 9780198787358
Stock expected by 13/04/2020
24 cm x, 370 pages, 8 unnumbered pages of plates : illustrations (black and white, and colour)
Coral reefs represent the most spectacular and diverse marine ecosystem on the planet as well as a critical source of income for millions of people.
However, the combined effects of human activity have led to a rapid decline in the health of reefs worldwide, with many now facing complete destruction.
Their world-wide deterioration and over-exploitation has continued and even accelerated in many areas since the publication of the first edition in 2009.
At the sametime, there has been a near doubling in the number of scientific papers that have been written in this short time about coral reef biology and the ability to acclimate to ocean warming and acidification.
This new edition has been thoroughly revised and updated, incorporating the significant increase inknowledge gained over the last decade whilst retaining the book's focus as a concise and affordable overview of the field. The Biology of Coral Reefs provides an integrated overview of the function, physiology, ecology, and behaviour of coral reef organisms.
Each chapter is enriched with a selection of 'boxes' on specific aspects written by internationally recognised experts.
As with other books in the Biology of Habitats Series, the emphasis in this book is on the organisms that dominate this marine environment although pollution, conservation, climate change, and experimental aspects are also included.
Indeed,particular emphasis is placed on conservation and management due to the habitat's critically endangered status.
A global range of examples is employed which gives the book international relevance.
BIC:
PSPM Marine biology, PSVS Animal ecology, RGBR Coral reefs, RNC Applied ecology, RNK Conservation of the environment, RNP Pollution & threats to the environment, RNPG Climate change