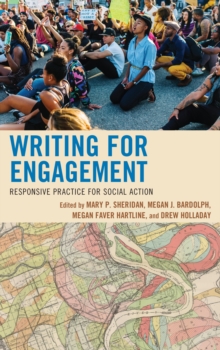 Writing for engagement : responsive practice for social action
1498565565 / 9781498565561
23 cm 310 pages : illustrations (black and white)
Engagement is trendy. Although paired most often with community, diverse invocations of engagement have gained cache, capturing longstanding shifts toward new practices of knowledge making that both reflect and facilitate multiple ways of being an academic.
Engagement functions as a gloss for these shifts-addressing more expansive understandings of where, how, and with whom we research, teach, and partner.
This book examines these shifts, locating them within socio-economic trends within and beyond the higher educational landscape, with particular focus on how they have been enacted within the diverse subfields of writing studies.
In so doing, this book provides concrete models for enacting these new responsive practices, thereby encouraging scholars to examine how they can facilitate writing for social action through taking positions, building relationships, and crossing boundaries.
BIC: