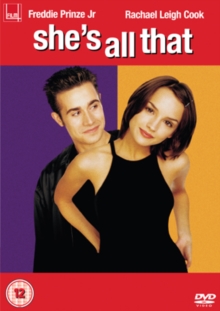 (12) Suitable for 12 years and over.
Soccer team captain Zack (Freddie Prinze Jr) is one of the most popular guys at his High School, and he's a little upset when his girlfriend Taylor (Jodi Lyn O'Keefe) dumps him so she can go out with a TV star (Matthew Lillard).
Nevertheless, he insists that she is replaceable and makes a bet with his best friend Dean that he could turn any girl at the school into a Prom Queen.
Dean takes the bet and nominates miserablist wierdo Laney (Rachael Leigh Cook) as the lucky girl.
Undaunted, our hero sets to work...
Interviews: Interviews with cast and director
Other Documentary: 'Shooting the Movie'