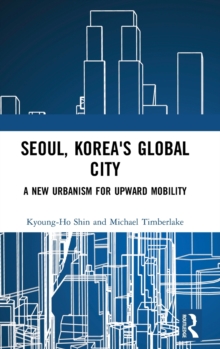 Seoul, Korea's global city : a new urbanism for upward mobility
1138564230 / 9781138564237
24 cm 144 pages : illustrations (black and white)
Postgraduate, Research & Scholarly Learn More
Undergraduate
Seoul, as one of Asia's rising global cities, has been a place where enormous changes in politics, industry, and culture have taken place over the last five decades.
This book explores the new urbanism in Seoul from the perspective of global political economy, focusing on the contexts in which the city has witnessed the transformation of its population structure, such as the rise of the global urban middle class and the city's increased nodal function in commodity chains.
The burgeoning signs of Seoul's status as a global city are discussed in terms of transnational tourism and the frequency of study abroad, the immigrant community, and cross-border cultural flows.
Examining the labour structures within the city, economic growth policy, the role of advanced information technology, and neoliberal urban development, the authors also examine the local response in the city to its emerging status.
A study of the development of the Korean capital and its deep embeddedness in the world economy, Seoul, Korea's Global City will appeal to scholars of sociology, geography and economics with interests in political economy, urban studies and Asian studies.
BIC: